Stepney Cemetery
Birdsey's Plain Cemetery
Monroe, Connecticut
Return to the main page.
Stepney Cemetery (Birdsey's Plain Cemetery) was established in 1794. It is in the Stepney area of the town of Monroe, Connecticut. Although it is a rather old cemetery, it doesn't have many distinguishing features. There are three points of interest. The first is an unusually high number of infants and children from the same families buried here. There were numerous stones listing four or more children all from the same family, and often with overlapping dates. The second item of note is that Stepney houses the grave of famed paranormal expert, Ed Warren. The final point of interest is the legend that the White Lady is often said to appear on Route 59, between Stepney Cemetery and Union Cemetery. (For more on the White Lady, visit the page for Union Cemetery.)
Photos taken 12 October 2008.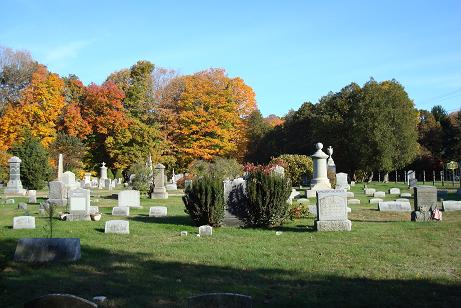 A view of the cemetery.
"Benjamin Winton
Born Nov. 17, 1797
Died Oct. 16, 1856"
Ed Warren
The remaining photos are of the resting place of internationally renowned paranormal expert, Ed Warren.
Unfortunately, the highly glossy stone coupled with the time of day made it difficult to obtain clear photos.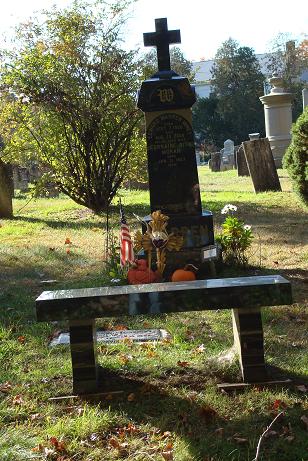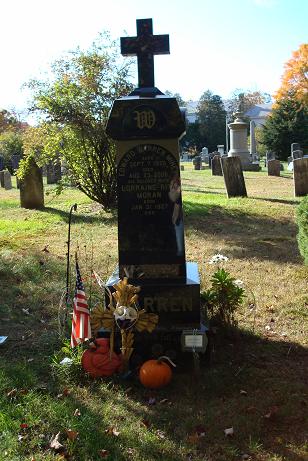 Front view of the Warren monument, with a bench in front and a flat stone between the two.
There is a cursive "W" at the top.
The body of the memorial states, "Edward Warren Miney
Born Sept. 7, 1926
Died Aug. 23, 2006
His beloved wife Lorraine Rita Moran
Born Jan. 31, 1927
Died" (As of December 2009, Mrs. Warren is still living.)
There is an engraving of Mary under the names/dates.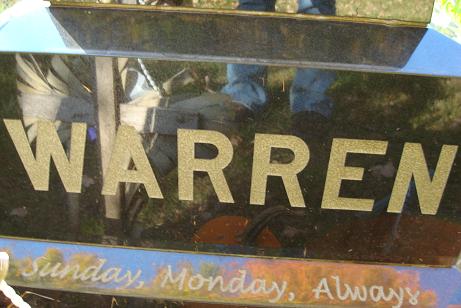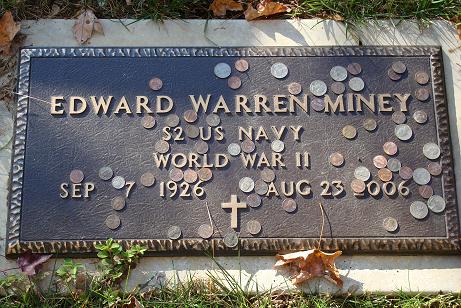 Beneath "Warren" it says, "Sunday, Monday, always, their hearts were full of spring."
There are flowers engraved at the bottom of the memorial.
The flat stone is located in-between the monument and the memorial bench.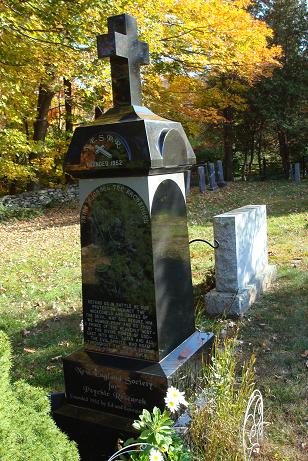 The right side of the monument is also inscribed.
The top has "N.E.S.P.R. founded 1952" with a cross. (New England Society for Psychic Research)
The bottom states,
"New England Society for Psychic Research founded 1952 by Ed and Lorraine Warren".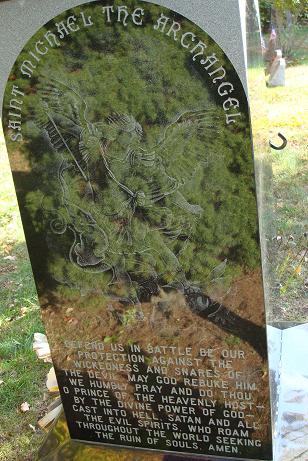 The main part of the monument (right side) has an engraving of "Saint Michael the Archangel".
Beneath him, it says, "Defend us in battle be our protection against the wickedness and snares of the devil.
May God rebuke him, we humbly pray and do thou, O Prince of the Heavenly Host - by the divine power of God -
cast into hell, Satan and all the evil spirits who roam throughout the world seeking the ruin of souls. Amen."
All photos copyright by the author, 2009. Not to be used or reproduced without permission.
Return to the main page.