Mountain Grove
Bridgeport, Connecticut
Page 2
To view more of Mountain Grove's monuments, continue to page 1.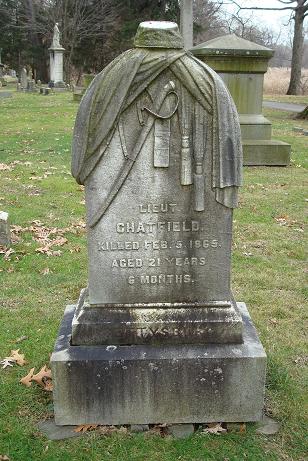 FRONT: "Lieut. Chatfield.
Killed Feb. 5, 1865.
Aged 21 years 6 months.
Gettysburg"
REAR: "Henry Whitney Chatfield Adjt. 17th Reg. Conn. Vol.
Son of Henry W. and Susan M. Chatfield
Born Aug. 2, 1843.
Killed by guerillas at Volusia, Florida.
Chancellorsville"
"F. T. B. Nov. 5, 1873."
Frederick Tomlinson Blakeman, son of Birdseye & Anna M. T. Blakeman.
Age 23 years.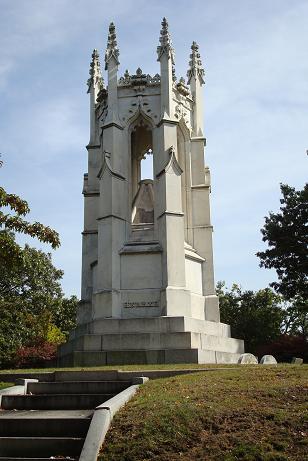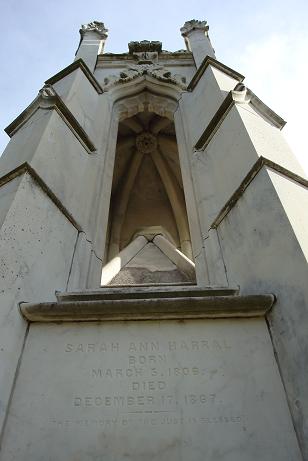 "Harral" - this monument is huge, on a hill, and astonishing.
It is to the left of the Wordin Monument (photo posted further on).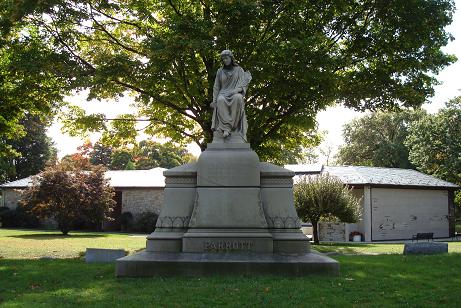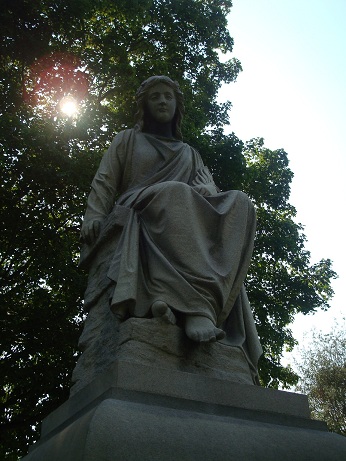 "Parrott"
Plot of Henry Remer Parrott (1829 - 1919) and extended family.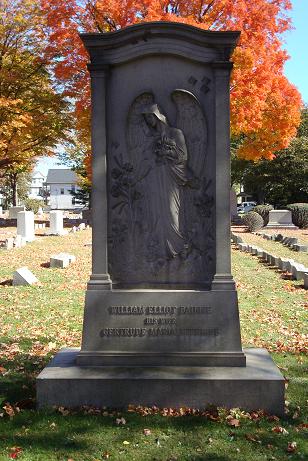 "William Elliott Baillie his wife Gertrude Maria Sterling"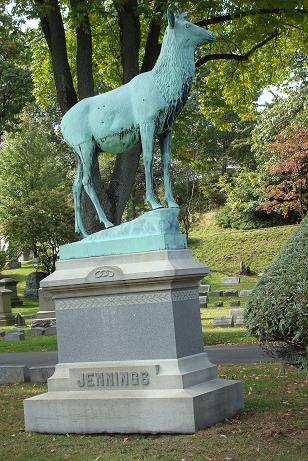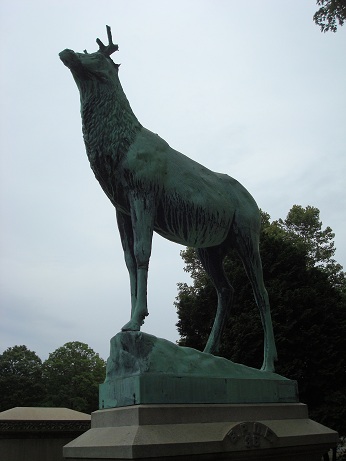 The Jennings stag.
Fred (1880 - 1902), Mother (1820 - 1884) and Teresa George (no dates).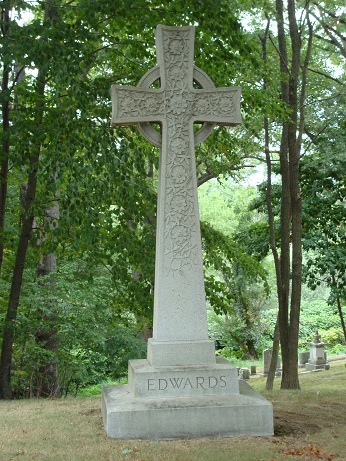 There are several decorated Celtic crosses in Mountain Grove.
This monument is for the Edwards family:
Cornelia Clark (Aug. 21, 1882 - Dec. 7, 1949;
George Holmes (Feb. 26, 1881 - Dec. 26, 1967);
Ardelia Esther (May 6, 1848 - Nov. 2, 1916);
George Clarke (June 29, 1846 - Sept. 23, 1919).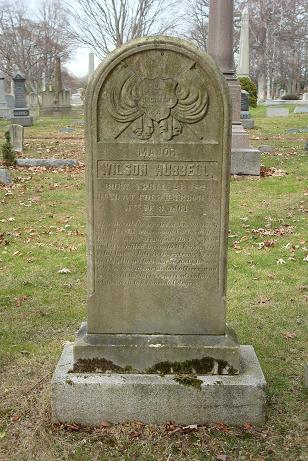 "62nd Regiment N. Y. V.
Major Wilson Hubbell
Born April 21, 1821
Died at Cold Harbor, VA.
June 3, 1864.
He entered the service of his country April 1861,

was engaged at (?) battle in the Army of the Potomac

and was killed by a shell from the rebel lines;

while in the extreme front gallantly performing his duty.

He was a brave and accomplished officer and possessed the love,

respect and confidence of his men to an unusual degree."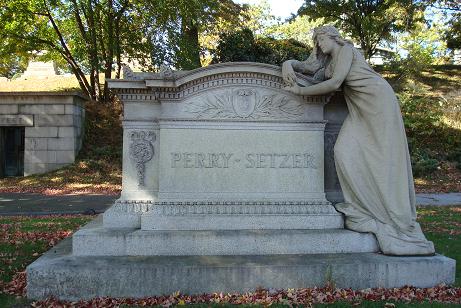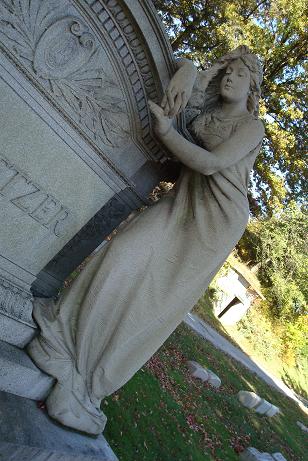 "Perry-Setzer"
A flat stone in front of the monument states,
"Perry Setzer / July 5, 1882 / Jan. 31, 1892"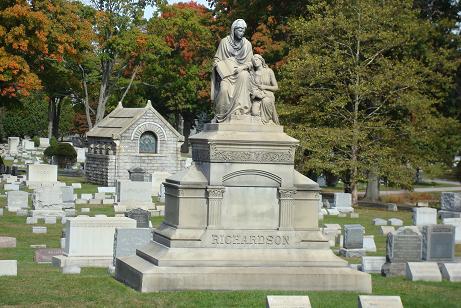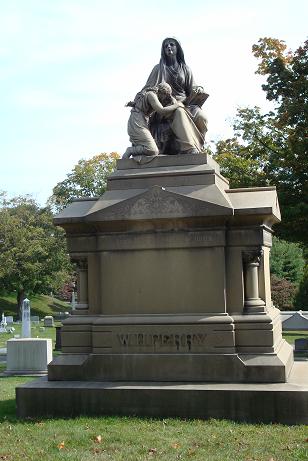 "Richardson" and "W. H. Perry"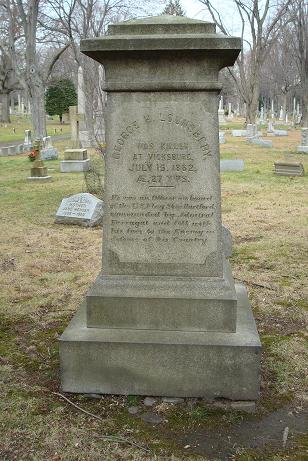 "George H. Lounsbery
was killed at Vicksburg, July 15, 1862,
Ae. 27 yrs.
He was an Officer on board

the U.S. Flag Ship Hartford

commanded by Admiral Farragut

and fell with his face to the Enemy

in defence of his Country."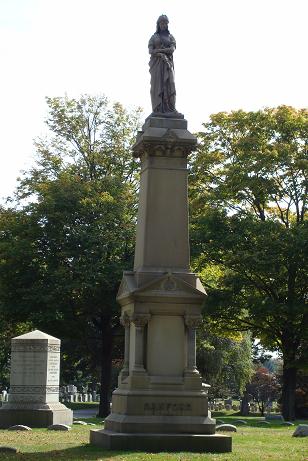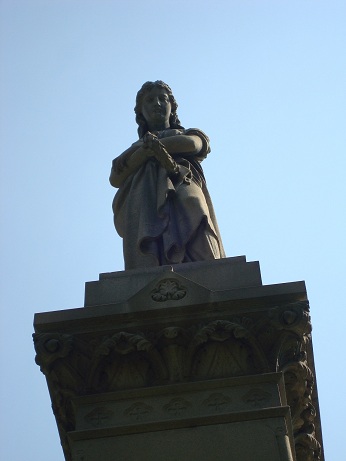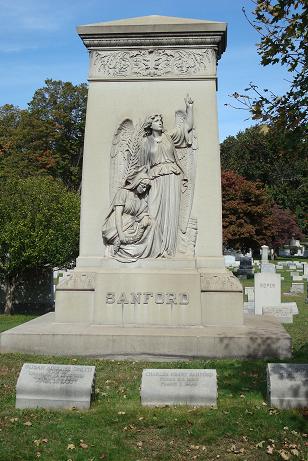 Two memorials for "Sanford."
"Our loved one.
Allie, son of Alfred and Eunice A. Hopkins
Died July 12th 1872,
Aged 10 years, 3 months & 22 days
Yet thou art gone our hearts (?)
our boy so fond and dear."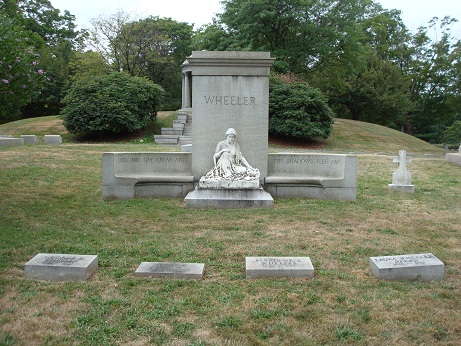 The Wheelers: George E. (1882 - 1935), Mary E. (1848 - 1920), Elbridge E. (1846 - 1929) & Emma Wheeler Beers (1872 - 1952).
"Until the day break and the shadows flee away," from Song of Solomon 2:17 or 4:6,
depending on which interpretation you prefer.
You can see the Warner memorial on the hill behind it.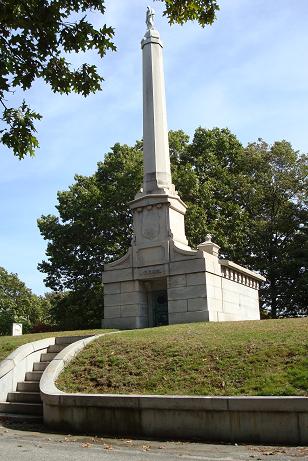 "Wordin" - this monument is on a hill and huge.
It is to the right of the Harral monument (photos posted previously).
Notice the gentlemen in Roman (Greek?) attire at the summit of the pillar.
The back of the memorial says,
"In te, Domine, speravi." (Translates as "In thee, O Lord, did I hope.")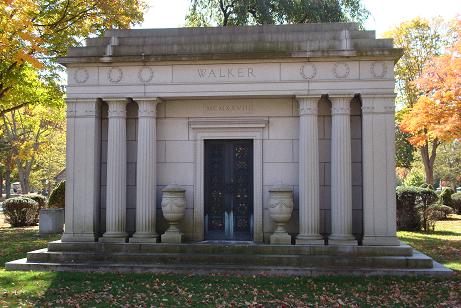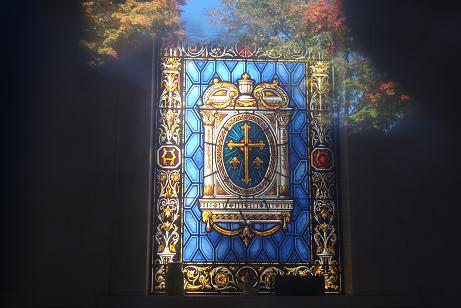 "Walker MCMXXVIII" (1928);
the stained glass art at the back of the mausoleum.
The trees behind me reflected in the window.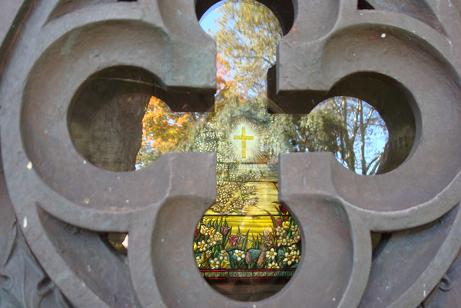 Milton L. Orelup, 1914 - 1999.
All photos copyright by the author, 2009. Not to be used or reproduced without permission.