Nathaniel Wheeler Bishop (16 September 1865- 4 April 1920), alternate delegate to the Republican National Convention from Connecticut (1916).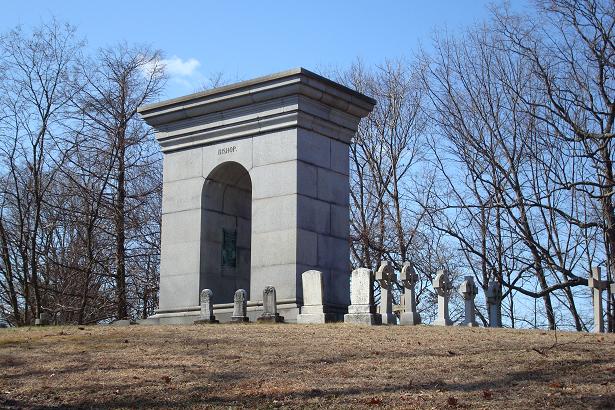 The Bishop memorial.
William Darius Bishop (14 September 1827 - 4 February 1904), US Congressman, a member of the Connecticut State House, and the Connecticut State Senate. Also served as President of the Naugatuck Railroad Company and the New York and New Haven Railroad Company.
George L. Carlson (1887 - 1962). Carlson was an illustrator and artist. He created the dust jacket artwork for "Gone With the Wind" (1936).
Frances J. "Fanny" Crosby (24 March 1820 – 12 February 1915). Blind since infancy, she was one of the most prolific lyricists in history, writing over 8,000 hymns. Crosby was also known for her preaching, and during her lifetime Crosby was one of the best known women in the United States. She played the hymn "Safe in the Arms of Jesus" at President Grant's funeral in 1885. Her compositions include, "Blessed Assurance," "My Savior First of All," and "Safe in the Arms of Jesus." Crosby was inducted into the Gospel Music Hall of Fame in 1975.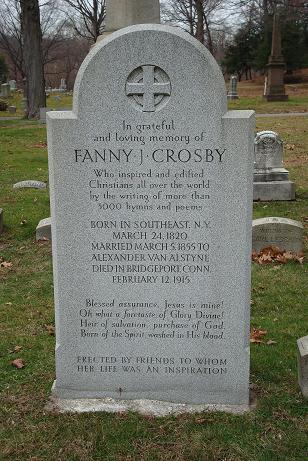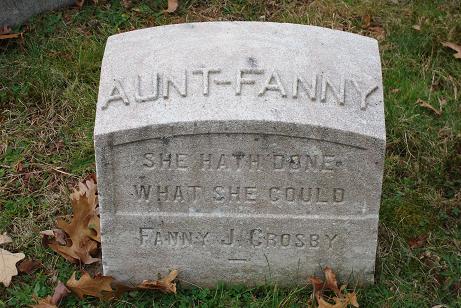 Fanny Crosby
John Calvin Curtis (17 April 1846 - 17 January 1917), Civil War Congressional Medal of Honor Recipient (Union Army). 1st Lieutenant Co. 1. 9th Connecticut Volunteer Infantry. During fighting near Baton Rouge, LA, (5 August 1862) Curtis "voluntarily sought the line of battle and alone and unaided captured 2 prisoners, driving them before him to regimental headquarters at the point of the bayonet." Curtis was also a founder and the first president of the Boys' Club of Bridgeport, Connecticut. He is buried with his wife, Adeline Stuart (1849 - 1920).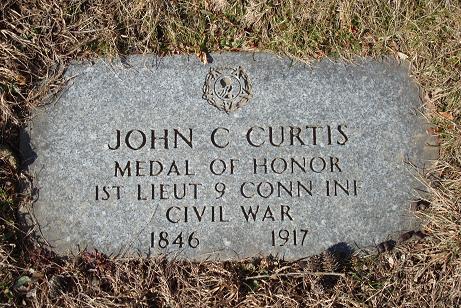 John Calvin Curtis
Vernon Dalhart (Marion Try Slaughter, Sr.)(6 April 1883 - 14 September 1948), pioneering country musician. In the 1920's he released "Wreck of the Old 97", which was the best-selling single in its time, and was the biggest-selling non-holiday record in the first seventy years of recorded music. "The Prisoner's Song" was estimated to be a #1 hit for 12 weeks in 1925-26. His lifetime recording sales is estimated at 70 million copies. In 1998, "The Prisoner's Song" was honored with a Grammy Hall of Fame Award and the Recording Industry Association of America named it one of the Songs of the Century. He was inducted into the Nashville Songwriters Hall of Fame in 1970, into the Country Music Hall of Fame in 1981 and into the Gennett Records Walk of Fame in 2007.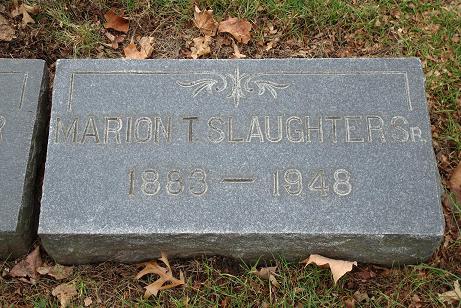 Vernon Dalhart (Marion Try Slaughter, Sr.)
Ralph Elliott DeForest (20 February 1845 - 1 October 1924), US Congressman, mayor of Bridgeport, member of the Connecticut State House of Representatives, and a member of the Connecticut State Senate.
Dr. Alfred Civilion Fones (17 December 1869 - 15 March 1938), dentist and founder of the dental hygiene movement. Fones created the term, "dental hygenist," and founded the first school dedicated to that profession in 1913, The Fones School of Dental Hygiene at the University of Bridgeport. Each year students make a pilgrimage to the Fones family plot.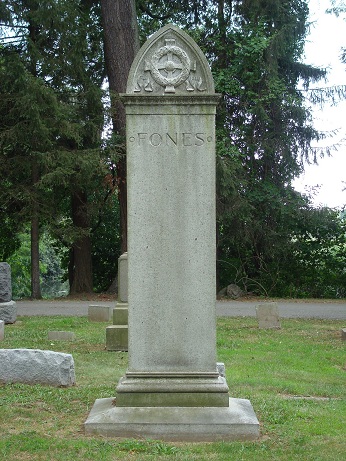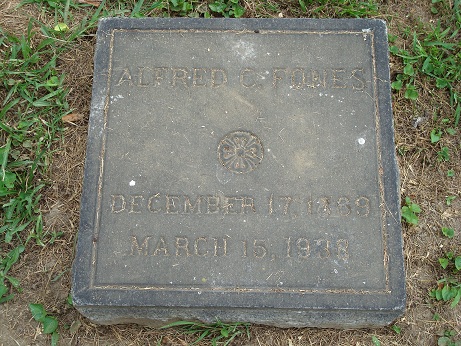 Alfred Fones' memorial and marker.
William Bliss Hincks (1841 - 7 November 1903), Civil War Congressional Medal of Honor Recipient (Union Army). Hincks was a member of the 14th Connecticut Volunteer Infantry and fought in the battles of Gettysburg, Antietam, Fredericksburg and Chancellorsville. He won the nation's highest military medal for capturing an enemy flag at Gettysburg (Pickett's Charge).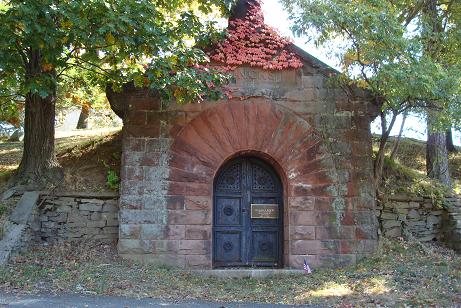 "William B Hincks
Medal of Honor
Maj 14 Conn Inf
Civil War
Nov 7 1903"
Robert Lawson (4 October 1892 - 27 May 1957), author and illustrator of children's books of his time. Lawson won the Caldecott Medal for "They Were Strong and Good" (1940), and the Newbery Medal for "Rabbit Hill" (1945). He was also awarded the John Taylor Arms Prize by the Society of American Etchers for one of his etchings.
Daniel Nash Morgan (18 August 1844 - 30 May 1931), banker, member of the Connecticut House of Representatives and the State Senate. Morgan served as mayor of Bridgeport, Connecticut (1880-81) and United States Treasurer from 1893 until 1897.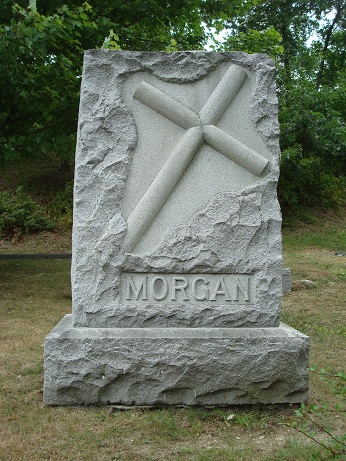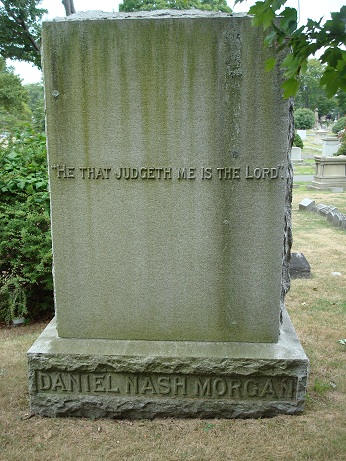 The front and back of Morgan's memorial: "He that judgeth me is the Lord."
Morgan's marker
Irene E. Newman (4 July 1875 - 15 November 1958), the world's first dental hygienist, serving under Dr. Alfred C. Fones (above). In 1917, Newman received the first dental hygiene license and she became president of the first dental hygiene association, The Connecticut Dental Hygienists Association.
William Henry Noble (16 August 1813 - 18 January 1894), Civil War (Union), Colonel Seventeenth Connecticut Infantry; Brevet Brigadier General. Present at Chancellorsville, Gettysburg, Siege of Fort Wagner and Fort Sumter.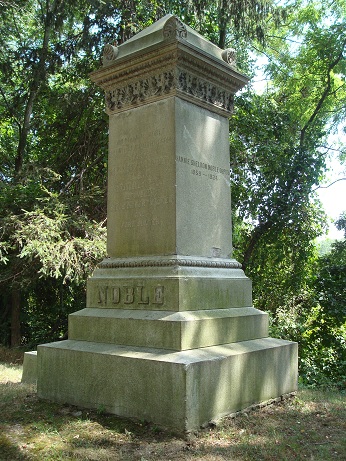 William H. Noble
Margaret Fogarty Rudkin (14 Spetember 1897 - 1 June 1967), founder of Pepperidge Farms, Inc. Rudkin, despite popular belief, is NOT interred in Mountain Grove and (accordingly) does not have a marker there. According to the cemetery's manager, she was creamated and her ashes are elsewhere.
John William Sterling (1826 - 5 June 1881), served as Captain and commander of the 2nd Connecticut Volunteer Light Artillery (Civil War).
Charles Sherwood Stratton, "General Tom Thumb" (1838 - 1883), and his wife, Mercy Lavinia Warren (1841 - 1919). The couple were enteratiners in P.T. Barnum's (above) Barnum & Bailey Circus. Thumb's final adult height was three feet four inches. Warren stood 32 inches tall and weighed 29 pounds.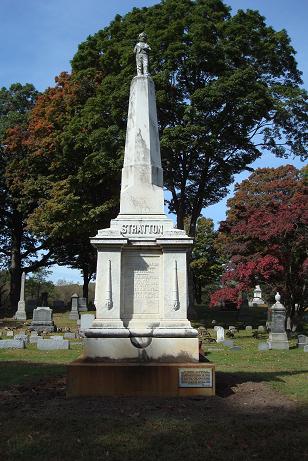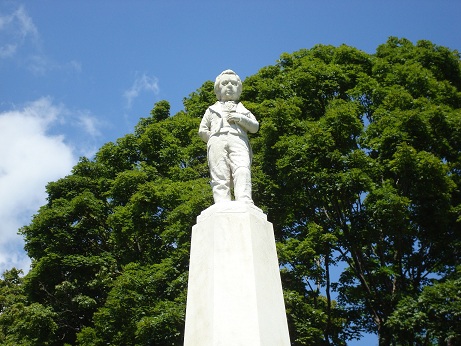 Tom Thumb's (Charles Stratton's) memorial. The statue on top is a life-size replica of Thumb.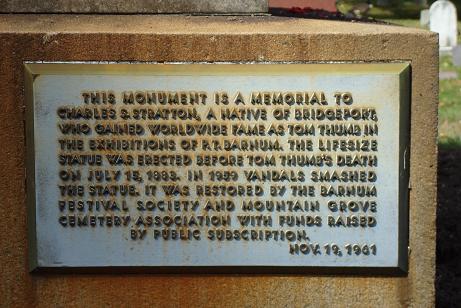 Close up of the plaque on Thumb's memorial.
Dr. Ira DeVer Warner (1840 - 11 January 1913) founder of Warnaco with his brother, Dr. Lucien Calvin Warner (1841 - 1925). Warnaco originally made corsets; it now produces Warners bras and undergarments and is a Fortune 500 company.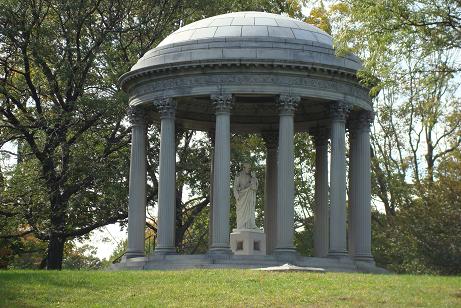 The Warner monument. Notice the mosaic tile ceiling inside the cupola, below.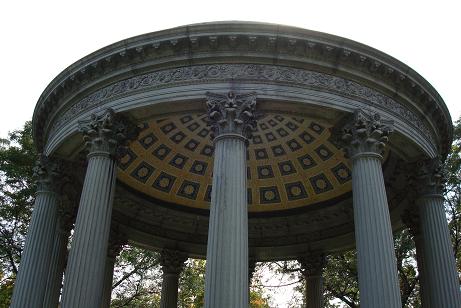 Nathaniel Wheeler (7 September 1820 - 31 December 1893), inventor of the Wheeler & Wilson sewing machine. Served in the Connecticut state senate and House, and the General Assembly.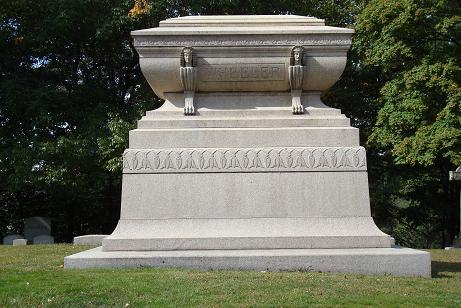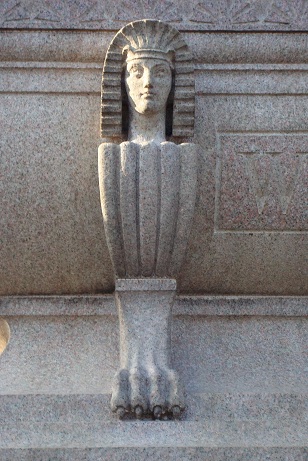 The Wheeler memorial.
Mountain Grove contains the graves of several distinguished veterans of the Civil War, as well as dozens of veterans of both World Wars. One inhabitant of Mountain Grove, Henry A. Treat (Cox. US Navy, died June 16, 1967; age 85), was a veteran of the Spanish American War.
All photos copyright by the author, 2009. Not to be used or reproduced without permission.